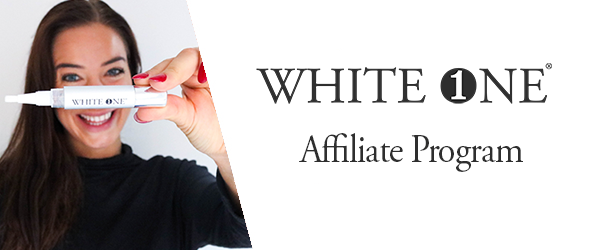 "We improve your looks"
Welcome to our affiliate-program!
At White One we believe everyone should be able to afford to pamper themselves with some exclusive products from time to time, and that you should be able to trust that the products deliver the results they should, this is our motto! White One is a trend-setting beauty and health brand that develops cosmetic products, supplements and health foods with products such as Teeth Whitening Pen, a simple teeth whitening performed at home, iLash to get long eyelashes, or Slim Shake, probably the tastiest protein powder that also helps you to easily lose weight.
Join our program of easy to sell Teeth Whitening products and Eyelash Serum. The beauty market is rapidly growing and we would like to invite you to take advantage of this phenomenal growth with our converting products.
Who we are: White One's product line contains Scandinavias most sold Teeth Whitening products along with enhancing beauty products for you Eyelashes and Eyebrows.
Our products are Cruelty free & Dermatologically tested and our most important motto is that we only sell products that give great results.
Our most sold Teeth Whitening Pen and Toothpaste give you white teeth in only days - a most have for every beauty geek out there!
Who are our customers: Our target customers is your inner beauty geek dreaming of longer lashes & thicker brows and a white smile. And because our product are oil-free you can use iLash together with your extension lashes.
Why to promote us: Not only are our product awesome! We also offer a broad mediakit with pictures, videos and banners. You get a high commission and an easy sold product = our page converts over 5 %. We want you to be a part of our White One team and will of course seed you a variety of products to start with!
Affiliate program overview
Commission: 15%
Cookie: 30 days
Average Sale: £50
Conversion Rate: 5,5%
Exclusive sales promotions Co-branded landing page
Exciting affliate contests and incentives
Huge selection of banners, text links and video creatives
Join today and start posting your affiliate links: Enjoy 25% commission for 30 days upon joining. Hurry as we will end this offer soon!
BONUS
Get £10 bonus on your first sales within 30 days of joining!
Get £50 bonus on your first 10 sales within 30 days of joining
Don't miss out on this opportunity to earn big right away with White One!
HOW TO GET STARTED? Click THIS link and fill out the form, and we'll review your website or social media account for approval. If you have a ShareASale account already, login to your account and and search for White One. GOT QUESTIONS? If you have any questions about our program, please feel free to send us a note at niclas@whiteone.com